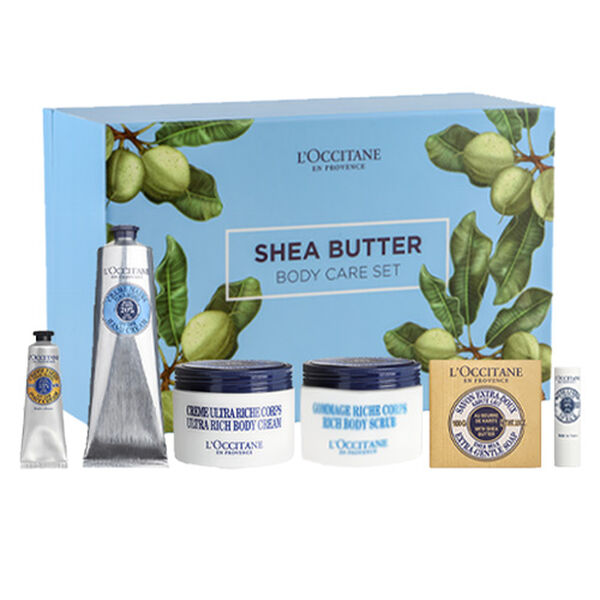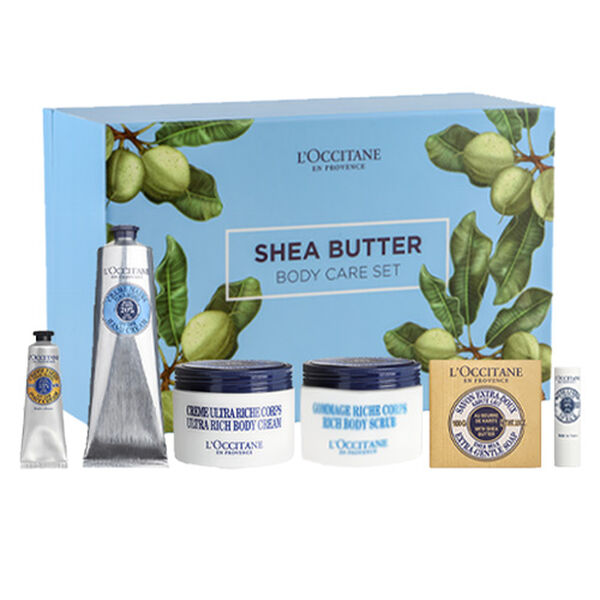 Description
This Gift Contains The Best of Our Shea Butter Collection:
Shea Butter Hand Cream 150ml: Our best selling cream enriched with 20 percent organic Shea Butter and blended with a yummy blend of honey, almond and coconut oil, this formula is tough on cracked, chapped hands without leaving any leftover oily trace.
Shea Butter Ultra Rich Body Cream 200ml: This shea ultra rich body cream nourishes and protects dry skin. Infused with Shea Butter, this body lotion locks in moisture and keeps the skin supple and nourished for longer.
Shea Butter Ultra Rich Body Scrub 200ml: Enriched with shea butter (10%), apricot oil and finely ground nutshells, this creamy base scrub offers gentle, yet effective, exfoliation. It helps eliminate dead cells, while preventing skin from becoming dehydrated. Skin is left perfectly smooth and soft.
Shea Butter Foot Cream 30ml: Rich in nourishing Shea Butter (15%), this cream with natural soothing ingredients (arnica and lavender essential oil) moisturizes and relieves irritated and tired feet.
Shea Butter Soap Milk 100g: Generously sized for everyday use in the bath. Formulated with a 100% vegetable base and enriched with Shea Butter, with nourishing properties.
​
Shea Butter Ultra Rich Lip Balm 4.5g: Enriched with fair trade Shea Butter (10%), this Moisturizing Certified Organic* Shea Lip Balm helps to moisturize, nourish and protect dry lips
Tip
Follow tips for each Shea Butter products for a well-moisturized skin:
Shea Butter Hand Cream- Apply a generous amount at least twice a day onto the hands. Gently massage into the palms, backs of hands, nails, and cuticles. No oily residue.
Shea Butter Ultra Rich Body Cream - After showering or bathing, apply all over body whenever skin feels tight or dry. Warm a small amount into your hands. Massage using circular motions.
Shea Butter Ultra Rich Body Scrub - Massage lightly onto dry or damp skin 2 to 3 times a week. Focus on rougher areas (heels, knees, elbows) and then rinse off.
Shea Butter Foot Cream - Using both hands, apply cream to the feet using circular motions.
Shea Butter Soap Milk - Massage gently into wet or damp skin.
Shea Butter Ultra Rich Lip Balm 4.5g - Apply on your lips whenever you feel it is necessary: give a shot of nutrition and protection to your lips on-the-go.
Featured Ingredients
Rich in fatty acids and unsaponifiable, Shea Butter is an ideal beauty ingredient which has been used for centuries by women in Sub-Saharan Africa to nourish and protect their skin and hair. The international success of L'Occitane's shea butter products can be shared with several thousand Burkinabé women, who are committed to developing a sustainable, fair trade shea butter supply chain.
Organic Shea Butter - Shea butter rich in omega 6 (nourishing properties) and omega 3 (known to soothe skin).
Beta-Glucan - A naturally derived sugar complex that contributes to moisturize and soothe the skin.