Almond Shower Scrub
Enriched with Almond oil and crushed shells, the foaming Almond Shower Scrub melts into the skin, cleanses softly and exfoliates to remove impurities and dead cells.

96% Readily biodegradable ingredients
Eco-friendly packaging
Cleanses & Exfoliates

Loved this product? Leave us a review!
Description
Skin is softened, smoothed and ready to absorb all the benefits of your body creams. This scrub leaves behind the fresh and delicate fragrance of Almond tree flowers.

Ideal for
Gently removes impurities and dead skin cells.
Leaves skin feeling soft and smooth.
Offers a delicate cleanse.
Kisses skin with the mouthwatering aroma of fresh almond and warm vanilla. 

Tip
Massage over entire body while showering, working into an aromatic lather. Rinse well.
Featured Ingredients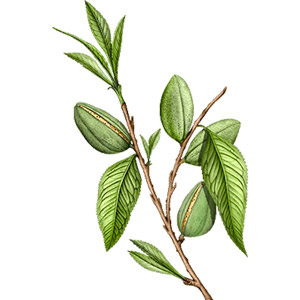 Sweet Almond Oil
Obtained through a cold pressure process to help retain most of the almond's nutrients. Naturally rich in three skin- protecting compounds
Omega 9 - Fatty acids that occur naturally in the skin. Nourishing and softening properties.
Crushed Almond Shells - Known for their exfoliating properties. Gently remove dead skin cells.
Formulated without
PHTHALATES | MINERAL OIL DERIVATIVES | SILICONES | PARABENS | PHENOXYETHANOL
Web Benefit
Benefits of Almond

Commonly used in face, body and hair treatments, almond oil is one of the most commonly used natural oils in the beauty world. Packed with antioxidants that help to fight free radicals, almond oil boosts the healthy appearance of both skin and hair. Almond oil also has a high level of Vitamin E, which protects the skin from sun damage and premature ageing. It is a key ingredient in the regeneration of new skin cells which keep the skin plumped and youthful fighting off wrinkles and fine lines.

And it isn't just the face that benefits. Almond oil is known for stopping the spread of stretch marks as well as reducing any redness and itchiness. Thanks to its natural combination of vitamins, it also promotes healthy hair growth, softens the tissue around the scalp, and encourages the renewal of new cells which fight against hair thinning.